My return to Medellín, of course, was inevitable. After all, it was the first city I ever visited in Colombia and the one city that inspired me to ultimately change my entire life; and for that, I will always carry Medellín in a special place in my heart.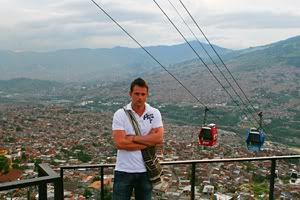 Although my home now is Bogotá, I will always feel a stronger connection to Medellín for those reasons. People even say I speak Spanish as if I learned it in Medellín. Apparently it's is an odd combination of

gringo

and

paisa

. I guess it's because I've always found the

paisa

(Medellín) accent easier to imitate than a

rolo

(Bogotá) accent, even though

rolos

insist they speak the better Spanish. Paisas however couldn't disagree less.
I arrived to the "City of Eternal Spring" on August 5 to cover the Fería de las Flores (Flower Fair) running around like a chicken with its head cut off – making stories, writing scripts on my BlackBerry, tracking them, locating the RCN satellite truck to send it back to Bogotá, and of course fighting heavy holiday traffic.


Once the stuff was sent, I had to call my producers and instruct them how I wanted the story to be done, hoping they would understand me with loud salsa music booming in the background of Parque Norte.
It was all a rush but I felt very proud I was able to accomplish this, and I wouldn't mind doing it at all again.
On my trip, I met Medellín Mayor Alonso Salaso and climbed to the top of the Mayor's Office, getting a perfect 360° view of the city. I also visited Medellín's usual tourist sites including Pueblito Paisa where I sang "Ay Hombe" by vallenato singer Jorge Celedón in front of a large crowd. I don't have the "Factor X" however.


Once I was done with my stories around at 8:00 PM, I could do whatever I wanted, so I ended-up taking a long taxi ride over to the northwest part of the city to visit some friends. It was the first time I had seen them in seven months so we were both all happy to see each other again.
My best experience covering the feria was the ever famous "Silletero" parade, the main event of the Feria de las Flores where enormous flower displays – called

silletas

– are carried through the streets. Army helicopters flew over the parade, dropping bushels of flower petals onto the crowd, as if it were raining petals from the sky.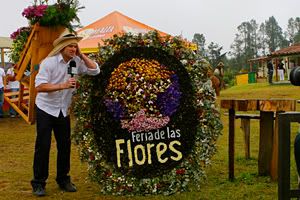 After making my stand-ups for my package, my cameraman and I walked through the parade itself. It shocked me how many people recognized me as the "RCN gringo." Several asked for my picture or autograph while people who didn't know me soon learned who I was.
It's such an amazing feeling when you walk through miles and miles of people and have them all cheer for you. Not just small cheers but loud, roaring cheers, booming through the parade as if I were a soccer player running onto a field. One person who spoke English came up to me telling me what an amazing impact I was having on Colombia.
Nothing felt better than knowing I captivated the hearts and minds of the Paisas; and I can't thank them enough for always renewing my love for Colombia and reminding me why their country is truly great. As my Medellín friends – my

parceros –

say,

"Medellín es una chimba!"